Hello reader!
Welcome back on my blog! I'ts been a while I wrote something on my blog.
2020 is a crazy year already with everything going on. But despite all the craziness the past few months have been full with achievements and events. In this post I like to share the highlights with you.
"It may seem so easy to take it easy but, it is never so easy to take it easy."
I took a step back from writing on my blog to reduce some pressure I put on myself. I was too focused on work and wanting to make and build so many things at once, I forgot to think about myself sometimes. I kept trying to convince myself to take it easy. But when taking it easy becomes hard, take a step back. ?
---
Instagram
While I took a step back I started to focus more and more on my Instagram content. It felt much easier to write daily/weekly about things happening around me and things playing around in my head. It allowed me to train on creating consistent content, resulting in great feedback helping me grow a lot.

Instagram also helped me getting out of my comfort zone. If you would ask me six months ago to post a selfie on my profile. My answer would be a clear no. I felt very uncomfortable by doing so and felt like my appearance wouldn't be "fun" to watch.
Until March I started to come up with more content featuring me too. Leading to one of my personal achievements, posting a selfie on my Instagram page in June!
It took a few months to become comfortable and the results were great. I never expected to receive this much attention and were totally surprised people were happy to see the face of the content. This encourage me more to become more personal.
Besides sharing my knowledge in field of game development I also started to share my stories and things I learned through the past nine years of developing. I talk more and more about my experiences and am so happy to read many people find these stories very motivational and inspirational! That's something I never expected to happen in this kind of level.
The big achievement.
July 27th marks a special day to me. It's the day I reached 10 000 followers which is a surreal number to me. I am still speechless about this achievement and am still very shy about it. It feels great to have build this amazing community and seeing the amount of people I can reach by showing the amazing world of Game Development!
What's my goal with my Instagram content?
Through the past few months I noticed sharing my stories inspires a lot of people. This made me realise I could be a person I wished I knew when I was studying. When I studied I didn't know anyone who's in the field of programming sharing their stories. If I just knew some ins and outs and sacrifices that were made it would've gave me that extra push.
Besides inspiring and motivating I also keep using my Instagram to keep awareness of the amazing field of Game Development by sharing my work and industry standard tips/tricks!
---
GameDev.TV
When my Instagram started to grow more, GameDev.TV reached out to me with an invitation for their podcast. I felt very honoured for this opportunity and accepted the invitation.
GameDev.TV is an online game development courses platform. They have a big platform with a lot of great courses to help you learn about game development. This made me very honoured to be part of it and share my story with them and their students.
You can listen to my full story in the podcast below. You can listen and watch on YouTube, or you can listen at any of your favourite podcast platforms!
---
Mobvoi
In my last blog post I wrote a story/tutorial about developing a game for my WearOS using my TicWatchPro smart watch (Wear OS Game Development). Mobvoi the owner of TicWatch products contacted me if I wanted to be part of their new blog series where user share their stories with their products. I felt very honoured to share my story with them and did not hesitate to partner up!
I happened to be the lucky first person to share his story claiming the Episode 1! Never expected this to happen when I bought my TicWatchPro that the owner would contact me to collaborate! Showing once again how fun life can be when you put hard work in. It will always pay off!
The full story can be read here on Mobvoi website!
---
GamePoint
During the past few months some great personal achievements have been taking place at work! Lots of achievements which happens are still under NDA so can not share about everything, but there is some what I can share! So, did we release two new games on both app and play story where I had full responsibility of development.
The games are CardParty and WordTornado. Two popular web games from GamePoint.com website ported to mobile!
CardParty
CardParty was the first game we ported. It's a fun card game and has the same rules as an old card game named Skip-Bo. It's a solitaire-like card game which you play comparatively against other real players!
This game was a lot of fun to develop. It brought a lot of challenges with it because the game was initially designed for web purpose. So, we had to come up with new implementations for mobile!
Luckily because of the web version we already had the server messages, but all features on client had to be rewritten. But this was a lot of fun too, to come up with new systems to make further development much more easier!
After the release of CardParty it turned out to be a success! There are thousands of daily users online and already over 100 000 installs in a few months!
While porting CardParty we figured we could also port another popular game from GamePoint's portfolio.
WordTornado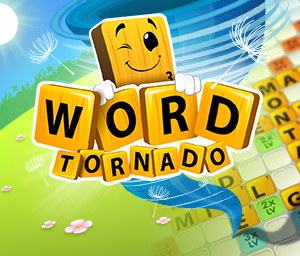 WordTornado is a very fun word board game! It's similar to famous board game named Scrabble! This game makes me go back to my roots. Because my grandmother loves to play scrabble! I learned many dutch words by playing scrabble with my grandmother, and now I can play against her on our phone and tablets!
WordTornado was very challenging. Fitting a full board game on mobile phone adds a lot of complexities! So did we implement zoom in/out functionalities to optimise the readability and accessibility of the play-field! It's lots of fun to see our WordTornado web fans now also playing on their phones and tablets!
It feels great to work on these games and think of new systems! The success of the games lead to having an awesome new team with a few new team members. Love it to share the passion and debate technology and improvements for these games everyday at work!
---
Dream motorcycle
In April my childhood dream came true. I bought my dream motorcycle. I still pinch myself every morning to check if I am not dreaming. This motorcycle is a my most proudest possession. There's 10 years of money savings put in this bike, dreaming to one day achieve it. All the sacrifices I took to reach it to this moments were totally worth it.
I worked hard for years on a beach restaurant frying fries even though still recovering from my knee injury. It was a lot of sweat and tears, but I kept dreaming to own this amazing Kawasaki Ninja! ?
The bike is a 2005 Kawasaki Ninja ZX-6R. A 636cc motorcycle with 132hp on 180kg making it a true beast. I don't think I will ever push it's limits. But the fact of having so much power underneath me, makes me feel great!
---
Wrap up
This was it for this blog post!
A lot happened through the past months, but I hope you enjoyed reading some of the highlights! If you like to stay updated, feel free to follow me on Instagram @justinbieshaar.
Hope to see you soon on a new blog post!
Happy coding everyone! ?‍?